Marissa Meyer's
Cress,
as almost everyone who reads YA is aware, is the third book of her Lunar Chronicles, futuristic retelling of well-known fairy tales. I loved
Cinder
(who doesn't like a cyborg version of Cinderella?), enjoyed
Scarlet
, but I have mixed-feelings about
Cress
(which apparently puts me in a minority).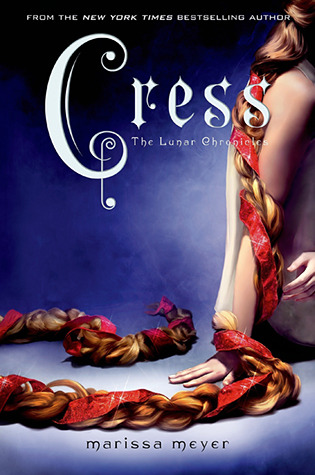 Don't get me wrong. I'm still attached enough to characters that I will undoubtedly read the rest of the series. But
Cress
felt uneven to me--sometimes fast-paced, but sometimes dragging. And while I like all the characters, here Meyer tries to cover so many perspectives that a few of the characters (Wolf and Scarlet, for instance), feel a little flat and/or don't have enough to do. It also seems a little *too* convenient that each of the title characters has a ready-to-hand love interest. I guess that's part of the fairy tale retelling, but I would have liked to feel a little more surprise.
I did like that Cress wasn't quite as kick-ass as Cinder and Scarlett--this felt realistic given that, as a Lunar Shell (lacking the characteristic Lunar glamor), she's grown up trapped on a space ship orbiting earth and lacked the opportunities to develop the kind of toughness the other characters have. That said, she has her own strengths, and I liked that she was able to use her hacking skills to help the others. I also like the way the stakes continue to build in the series, as Cinder and the others try to force the Lunar queen Levana out of office and save the world. I like it--I just didn't love it this time around.