One of the best parts of being a debut author is getting to meet lots of other new authors. I'm much more attuned to the new books coming out than I have been in the past, and I have to say that the next year or so promises to be a banner year for books in general, and particularly for YA historical fantasy.
Here are some books that I'm particularly excited for: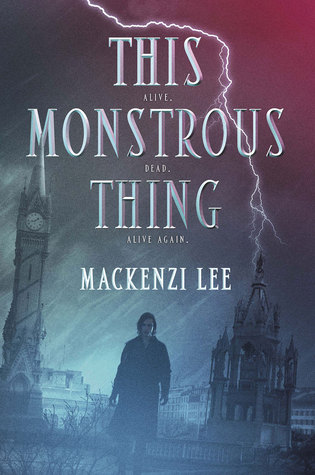 Mackenzie's upcoming Frankenstein retelling looks creepy and awesome all at once, and it's getting rave reviews. Here's the
Goodreads
description:
In 1818 Geneva, men built with clockwork parts live hidden away from society, cared for only by illegal mechanics called Shadow Boys. Two years ago, Shadow Boy Alasdair Finch's life shattered to bits.

His brother, Oliver—dead.

His sweetheart, Mary—gone.

His chance to break free of Geneva—lost.

Heart-broken and desperate, Alasdair does the unthinkable: He brings Oliver back from the dead.

But putting back together a broken life is more difficult than mending bones and adding clockwork pieces. Oliver returns more monster than man, and Alasdair's horror further damages the already troubled relationship.

Then comes the publication of Frankenstein and the city intensifies its search for Shadow Boys, aiming to discover the real life doctor and his monster. Alasdair finds refuge with his idol, the brilliant Dr. Geisler, who may offer him a way to escape the dangerous present and his guilt-ridden past, but at a horrible price only Oliver can pay…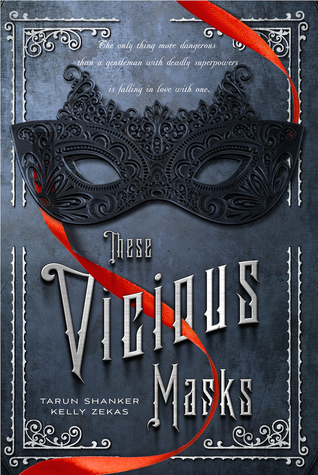 Jane Austen meets X-­Men in this gripping and adventure-­filled paranormal romance set in Victorian London.

England, 1882. Evelyn is bored with society and its expectations. So when her beloved sister, Rose, mysteriously vanishes, she ignores her parents and travels to London to find her, accompanied by the dashing Mr. Kent. But they're not the only ones looking for Rose. The reclusive, young gentleman Sebastian Braddock is also searching for her, claiming that both sisters have special healing powers. Evelyn is convinced that Sebastian must be mad, until she discovers that his strange tales of extraordinary people are true—and that her sister is in graver danger than she feared.
The Hawaiian setting alone has me intrigued.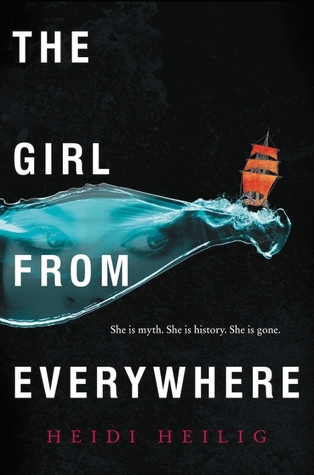 (From
Goodreads
)
Heidi Heilig's debut teen fantasy sweeps from modern-day New York City to nineteenth-century Hawaii to places of myth and legend. Sixteen-year-old Nix has sailed across the globe and through centuries aboard her time-traveling father's ship. But when he gambles with her very existence, it all may be about to end. The Girl from Everywhere, the first of two books, will dazzle readers of Sabaa Tahir, Rae Carson, and Rachel Hartman.

Nix's life began in Honolulu in 1868. Since then she has traveled to mythic Scandinavia, a land from the tales of One Thousand and One Nights, modern-day New York City, and many more places both real and imagined. As long as he has a map, Nix's father can sail his ship, The Temptation, to any place, any time. But now he's uncovered the one map he's always sought—1868 Honolulu, before Nix's mother died in childbirth. Nix's life—her entire existence—is at stake. No one knows what will happen if her father changes the past. It could erase Nix's future, her dreams, her adventures . . . her connection with the charming Persian thief, Kash, who's been part of their crew for two years. If Nix helps her father reunite with the love of his life, it will cost her her own.

In The Girl from Everywhere, Heidi Heilig blends fantasy, history, and a modern sensibility with witty, fast-paced dialogue, breathless adventure, and enchanting romance.
Katie's book has all the elements I love in a story: romance, fantasy, high society intrigue, set in a Russian-esque world. Plus, I've known Katie since before her book sold, and I can't wait to read this!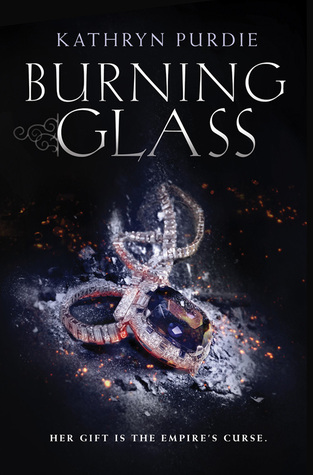 (From Goodreads):
Sonya was born with the rare gift to feel what those around her feel—both physically and emotionally—a gift she's kept hidden from the empire for seventeen long years. After a reckless mistake wipes out all the other girls with similar abilities, Sonya is hauled off to the palace and forced to serve the emperor as his sovereign Auraseer.

Tasked with sensing the intentions of would-be assassins, Sonya is under constant pressure to protect the emperor. One mistake, one small failure, will cost her own life and the lives of the few people left in the world who still trust her.

But Sonya's power is untamed and reckless, her feelings easily usurped, and she sometimes can't decipher when other people's impulses end and her own begin. In a palace full of warring emotions and looming darkness, Sonya fears that the biggest danger to the empire may be herself.

As she struggles to wrangle her abilities, Sonya seeks refuge in her tenuous alliances with the volatile Emperor Valko and his idealistic younger brother, Anton, the crown prince. But when threats of revolution pit the two brothers against each other, Sonya must choose which brother to trust—and which to betray.

BURNING GLASS is debut author Kathryn Purdie's stunning tale of dangerous magic, heart-rending romance, and the hard-won courage it takes to let go.
(From
Goodreads
):
"Her future is a thousand years in the past."

Being "the home-schooled girl" in a small town, Hope Walton's crippling phobias and photographic memory don't endear her to her dad's perfectly blond, very Southern family. When her mother is killed in a natural disaster thousands of miles from home, Hope's secluded world implodes. After being shipped off to an aunt she's never met, Hope learns there's more to her mother's "death" than she ever dreamed. At her aunt's manor, high in the Scottish Highlands, Hope begins to unravel the shocking truth about her family. Her mom isn't just a brilliant academic. She's a member of a secret society of time travelers, and is currently trapped in the twelfth century in the age of King Henry II and Eleanor of Aquitaine. To stage a rescue, the sheltered teen must join the Indiana Jones-wannabe team of time-jumpers, before her mother is lost for good. In a brutal, medieval world, Hope will discover more family secrets, and a mysterious boy who could be vital to setting her mother free…or the very key to Hope's undoing.

Addictive and rich with historical detail, INTO THE DIM (Coming Spring 2016 from Houghton Mifflin Harcourt) is an unlikely heroine's story of adventure, sacrifice, and first love, in a high stakes race against time itself.
The others are far enough out that they don't have covers, but they all sound amazing.


Julie's new book has been pitched as a YA Clan of the Cave Bear, which sounds awesome. Here's the description:
The only life seventeen-year-old Kol knows is hunting at the foot of the Great Ice with his brothers. But food is becoming scarce, and without another clan to align with, Kol, his family, and their entire group are facing an uncertain future.

Traveling from the south, Mya and her family arrive at Kol's camp with a trail of hurt and loss behind them, and hope for a new beginning. When Kol meets Mya, her strength, independence, and beauty instantly captivate him, igniting a desire for much more than survival.

Then on a hunt, Kol makes a grave mistake that jeopardizes the relationship that he and Mya have only just started to build. Mya was guarded to begin with—and for good reason—but no apology or gesture is enough for her to forgive him. Soon after, another clan arrives on their shores. And when Mya spots Lo, a daughter of this new clan, her anger intensifies, adding to the already simmering tension between families. After befriending Lo, Kol learns of a dark history between Lo and Mya that is rooted in a tangle of their pasts.

When violence erupts, Kol is forced to choose between fighting alongside Mya or trusting Lo's claims. And when things quickly turn deadly, it becomes clear that this was a war that one of them had been planning all along.
I've wanted to read this one since I found it was set in an alternate Victorian England (one of my very favorite eras!). And her pinterest board makes me want to read this even more.
A Shadow Bright and Burning is set in the early Victorian era, an alternate history in which sorcerers are advisors to the crown and magic is very much out in the open.
England has been at war with the Ancients, a group of seven hideous monsters, for over a decade. Henrietta Howel, a sixteen-year-old schoolteacher in Yorkshire, is found to have active sorcerer powers. She shouldn't have them--women can't do magic--but is believed to be the sorcerers' long-awaited Chosen One.
Brought to London to train, Henrietta enters a world of power and privilege she never could have imagined. In addition to mastering the elemental abilities of a sorcerer, she has to contend with the handsome and frustrating young men who are her fellow students. Despite the pressures of London society and the looming threat of war, Henrietta is determined to succeed.
But there's one great problem: she might not be the Chosen One after all.
Found at http://buttercupbungalow.blogspot.com/2012/01/faded-fairy-tales.html
Roshani's upcoming fantasy draws on both Indian and Greek mythology, a premise that already shoots it to the top of my to-read lists.
Cursed with a horoscope that promises a marriage of death and destruction, 16-year-old Maya has only earned the contempt of her father's kingdom. But when the ceremony for her arranged marriage takes a fatal turn, she becomes the queen of Akaran and wife of Amar. Yet neither roles are what she expected. As Akaran's queen, she finds her voice and power. As Amar's wife, she finds friendship and warmth.
But Akaran has its own secrets — thousands of locked doors, gardens of glass, mirrors that don't reflect the viewer and a tree that bears memories instead of fruit. Beneath Akaran's lush magic, she begins to suspect a sinister shadow that may be the key to understanding the horoscope that has shadowed her whole life. But to dig into Akaran's secrets means betraying Amar's trust. How far will she go to know herself? And what will happen when she finds out?
THE STAR TOUCHED QUEEN reinterprets the Greek myths of Hades and Persephone and Cupid and Psyche with the rich mythology and folklore of India.
The description of Sarah's book reminds me of Maggie Stiefvater's The Scorpio Races, which I
loved.
Witch's apprentice Bridey Corkill has hated the ocean ever since she watched her granddad dive in and drown with a smile on his face. So when a dead girl rolls in with the tide in the summer of 1913, sixteen-year-old Bridey suspects that whatever compelled her granddad to leap into the sea has made its return to the Isle of Man.
Soon, villagers are vanishing in the night, but no one shares Bridey's suspicions about the sea. No one but the island's witch, who isn't as frightening as she first appears, and the handsome dark-haired lad Bridey rescues from a grim and watery fate. The cause of the deep gashes in Fynn's stomach and his lost memories are, like the recent disappearances, a mystery well-guarded by the sea. In exchange for saving his life, Fynn teaches Bridey to master her fear of the water—stealing her heart in the process.
Now, Bridey must work with the Isle's eccentric witch and the boy she isn't sure she can trust—because if she can't uncover the truth about the ancient evil in the water, everyone she loves will walk into the sea, never to return
Set in an alternate 1825 Tsarist Russia--this one has so much promise!(And while you're at it, check out her cool website).
Sixteen-year-old Vika Andreyev can summon the snow and turn ash into gold. Eighteen-year-old Nikolai Karimov can see through walls and conjure bridges out of thin air. They are enchanters, and with the Ottoman Empire and other enemies threatening Russia, the Tsar wants an enchanter by his side.

Two enchanters in the same generation, however, are a rarity. And a problem. There is only so much magic in Russia, and it cannot be diluted. So the Crown's Game was invented, a duel of magical skill. The victor becomes the Royal Enchanter and the Tsar's most respected advisor. The defeated is sentenced to death.

The Crown's Game is not one to lose.

Of course, they both want to win. Until now, Vika's magic has been confined to her tiny island home, and she's eager to showcase her skill in the capital city of St. Petersburg. It also doesn't hurt that the competition allows her to express her mischievous streak. Nikolai, on the other hand, is a study in seriousness. As an orphan with not a drop of noble blood in his veins, becoming the Royal Enchanter is an opportunity he could, until now, only dream of. But when Vika and Nikolai begin to fall for each other, the stakes change.

And then, the stakes change again, as secrets from both their pasts threaten to upset the balance of the Tsar's—and the Russian Empire's—power.

The Game is so much more complicated than it looks.
Tara's book promises romance, intrigue, clocks, time-magic, and a fascinating alternate Victorian world. (I haven't read this one, but I've read another of Tara's books and she's definitely an author to watch).
(From Goodreads):
Every city in the world is run by a clock tower. If one breaks, time stops. It's a truth that seventeen-year-old Danny knows well; his father has been trapped in a town east of London for three years. Despite being a clock mechanic prodigy who can repair not only clockwork, but time itself, Danny has been unable to free his father.

Danny's assigned to a damaged clock tower in the small town of Enfield. The boy he mistakes for his apprentice is odd, but that's to be expected when he's the clock spirit who controls Enfield's time. Although Danny and the spirit are drawn to each other's loneliness, falling in love with a clock spirit is forbidden, no matter how cute his smiles are.

But when someone plants bombs in nearby towers, cities are in danger of becoming trapped in time—and Enfield is one of them.

Danny must discover who's stopping time and prevent it from happening to Enfield, or else he'll lose not only his father, but the boy he loves, forever.
And last, the one I'm most looking forward to--only because it's mine, and it's still hard to believe it's going to be a real book some day:
In an alternate Victorian England where social prestige stems from a trifecta of blood, money, and magic, sixteen-year old Anna Arden is barred from the society she yearns for by a defect of blood. She believes herself Barren, unable to perform the most rudimentary spells. Anna would do anything to belong, but after inadvertently breaking her sister's debutante spells, Anna finds herself exiled with her aging grandmother to her grandmother's native Hungary.

Her life might well be over.

But in Hungary, Anna finds that nothing about her world or her own lack of magic is quite as it seems. Fissures in the Binding that holds her world's magic are expanding, and the ancient creatures bound by that spell beg Anna to release them. As rebellion sweeps across Hungary, Anna's unique ability to break spells becomes the catalyst everyone is seeking. In the company of nobles, revolutionaries, and gypsies, Anna must choose: deny her unique power and cling to the life she's always wanted—or embrace her ability, destroy the Binding, spark a revolution, and change the face of magic itself.
What books--historical fantasy or not--are you most excited for?