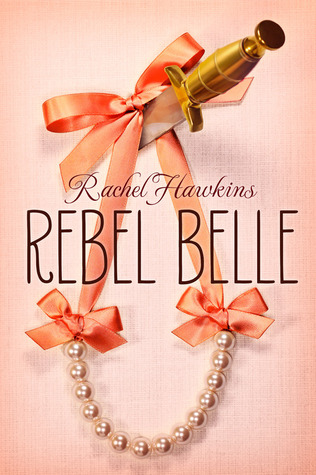 Rachel Hawkins does fun and lighthearted YA with a kick so well sometimes--the first book in Hex Hall was a delight from beginning to end. And a lot of that fun and delight comes through in
Rebel Belle
, just not quite as much.
For starters, there's the premise, which Hawkins herself described as
Terminator
meets
Legally Blonde.
Prom-queen hopeful Harper Price has everything together: her prom-queen nomination locked in, the perfect boyfriend, perfect grades. (Just don't ask her why she's so determined to hold it all together, or anything about her dead sister). But when a quick detour to the bathroom to reapply her lip gloss leads instead to a surprise liplock with the school janitor, who then dies in her arms, Harper's perfect life crumbles into chaos.
Suddenly, she's a
Paladin
, a super-powerful creature charged with protecting none other than her arch-nemesis, David Stark. Of course, this isn't part of Harper's plan, and it certainly doesn't make her boyfriend happy. So now she has to not only rock Cotillion, she has to save the world while she's at it.
As I mentioned, there was a lot to like here. Hawkins never lets her books get too dark, even when dealing with serious things (like the death of Harper's sister). And sometimes, when I just want to escape, I appreciate that. Harper and David had some great banter and good chemistry, and I thought it was to Hawkins' credit that she made me like David without making me hate Harper's current boyfriend. There were some fun twists in the story--but also some moments that didn't quite make sense to me.
Ultimately, a book I enjoyed reading, but not one that stayed with me long after the reading. But there's something about a heroine who can kill a bad guy with her stiletto . . .