I think it's a pretty open secret that I love historical fantasy, particularly in YA. After all, my book, THE BLOOD ROSE REBELLION, is historical fantasy.
Though there is a little bit of disagreement on the definition (some maintain historical fantasy is anything that seems as if it could have happened in our world), most of the time, historical fantasy is set firmly in our historical world, with magic. What I particularly love is that it combines the kind of historical detail I adore, with creative glimpses at what our world might look like if things were different.
Especially if, say, there was magic.
As a writer, I love historical fantasy because some of the world-building has been done for me (and I enjoy the rabbit hole that is historical research: I'm currently reading the correspondence between the British ambassador in Vienna in 1848 and Prime Minister Palmerston. Sounds boring, but there are some fascinating tid-bits about how the British viewed the Hungarian conflict I'm writing about). But I also love the freedom to explore "what ifs"--what if social prestige depended on magic? And what if that magic were controlled by a strict society? What if minority groups contravened those rules? And so on.
I'm currently making a list of historical fantasy--as a genre, I'd love to better understand its history. I'm not ready to write the history of the genre, but I thought I'd share some of my favorite YA historical fantasy, set in nineteenth-century Britain.
Patricia Wrede, MAIRELON THE MAGICIAN, SORCERY AND CECILIA
Patricia Wrede's books were some of my first exposure to historical fantasy. I think I read
Mairelon the Magician
, about a regency-era wizard who adopts a young thief, so many times that the cover nearly came off.
Sorcery and Cecilia
is equally delightful (co-written with Caroline Stevermer): a series of letters between cousins Kate, in London for her season, and Cecilia, sequestered at home. Quite accidentally, they stumble into a heinous magical plot, and hijinks ensue.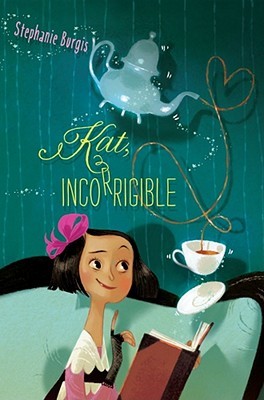 Stephanie Burgis, KAT, INCORRIGIBLE
Stephanie Burgis' delightful middle grade
series
isn't technically YA, but they have the signature combination of wit, warmth, Regency era and magic that I love. Kat is a fledgling magician who has to use her powers to save her family from magical plots and ne'er-do-wells. The book has magic, romance, highwayman, and sinister villains. What more could you want?
Kiersten White, ILLUSIONS OF FATE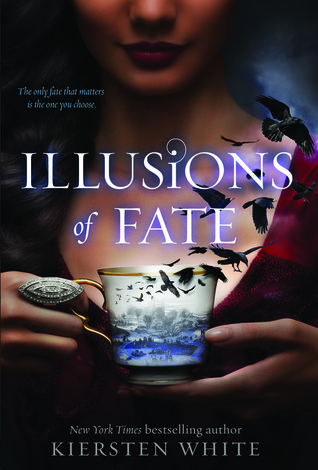 While it's not technically "historical," it's set in a world clearly reminiscent to ours, with Albion standing in for England. The heroine, Jessamin, is the daughter of an Albion by way of the colonies, come to Albion to study.

But she quickly gets embroiled with the delightful Finn, drawn first to his sparkling hair, and later to his wit. He's being threatened by the enigmatic Lord Downpike, and soon Jessamin finds herself under attack as well, using her wits to save herself and the boy she's rapidly coming to love. Charming, atmospheric, and a quick read, this is great book to dip your toes in historical fantasy.
Libba Bray, A GREAT AND TERRIBLE BEAUTY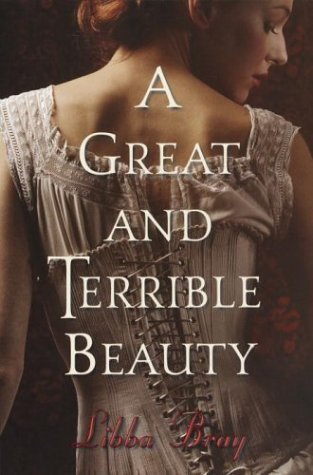 I admit it: I bought this book initially because of it's cover. Luckily, it was much more than that. Bray's
A Great and Terrible Beauty
is exactly what the title implies: beautiful and perilous at the same time. Following her mother's death, Gemma Doyle is sent to boarding school in England at Spence Academy, a strict school with a mysterious burnt wing. There, Gemma is drawn into a set of girls with some dark secrets. The girls find their way into a dark, magical world through Gemma's visions, and set out on a path of destruction none of them could have foreseen. The book is much darker than the others on the list, the characters are often not likeable, but there's something powerful in that combination.
Garth Nix, NEWT'S EMERALD
This romp of a book--on the eve of her debut into society, Truthful Newington's emerald necklace, a powerful family heirloom, is stolen. To find the emerald, Truthful assumes the identity of a boy and faces off against unexpectedly powerful opponents. The book reminded me a lot of
Sorcery and Cecilia
(light, frothy, fun take on Regency-era England). It was more-or-less self-published originally, but Harper Collins has picked it up and it will be re-released this fall.
[Edited to add] Franny Billingsly, CHIME
Chime
was a National Book Award finalist in 2011 (you may recall the whole mix-up where it was announced and then recanted that Lauren Myr's
Shine
was a finalist, instead of Billingsly). Set in an alternate nineteenth-century/early twentieth-century English countryside,
Chime is a lyrical,
atmospheric story of two sisters. Briony has a secret: she's a witch, in a community that still hangs witches if the Chime Child judges them guilty of witchcraft. Briony knows she's a witch because she feels herself implicated in the death of her stepmother, and in her twin sister Rose's strange, child-like condition. Briony is mostly okay with being an outsider in her village, her sister's permanent care-taker, and her father's responsible daughter--that is, until a young man named Eldric takes up residence in the parsonage with them, and suddenly Briony finds herself wanting things she's never wanted before. At the same time, she finds herself negotiating with the inhabitants of the swamp, like the Boggy Man, to try and cure her sister Rose of the swamp sickness that has killed so many of the village children.
[Edited to add] Clare Dunkel, THE HOLLOW KINGDOM
I don't know how I forgot this one: this dark, charming, goblin-filled story about two girls drawn in by a goblin king in search of a bride to save his kingdom captures a wonderful fairy-tale quality. The romance was heart-wrenching and lovely and if the story meandered for a little in the middle, I adored the characters enough to make the journey worthwhile.
What are some of your favorite historical fantasy books? (I've got Elizabeth May's
The Falconer and
Robin LeFevers'
Dark Assassin
books on my TBR list . . .).