A good friend of mine has been raving about Jojo Moyes' novels, so when I saw her newest at the library, I snagged it. And while women's fiction isn't always my first choice of genre, I did quite enjoy this one.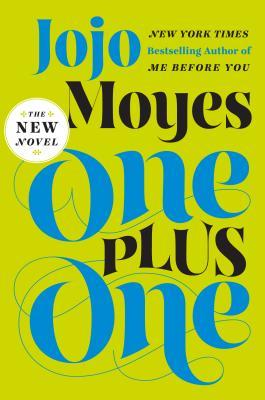 Jess is a young single mother, struggling to raise her ten-year-old math whiz of a daughter, Tanzie, and her ex's son, Nick, a sweet-hearted but odd loner of a teenage boy. She works two jobs to make ends meet, and her life pretty much revolves around her children. But she can't seem to figure out how to protect Nick from the local bullies, and when Tanzie has the opportunity to go to a fantastic private school on a generous scholarship, she can't seem to find the money she needs to make that happen.
But then a freak opportunity presents itself: a math Olympiad with enough prize money to cover the remaining school fees. The only problem: the Olympiad is in Scotland, Jess can't afford train fees for the three of them (not to mention their enormous black dog, Norman), and her ex's old Rolls Royce barely runs, and Jess doesn't have insurance.
Enter "Geeky Ed," the man Jess has met only occasionally--as his cleaning lady. Deeply embroiled in his own woes (accused of insider trading when all he really wanted to do was uncomplicated his love life), Ed wants nothing to do with Jess and her crew. Yet somehow, he finds him taking all three of them--and the dog--to Scotland. And no one's life will be the same.
It took me a while to get into the story: there's a lot of POV shifting in the first little bit. And I still think Ed agreeing to drive them all the way to Scotland is a little far-fetched. Setting that aside, I did really enjoy this. The characters are engaging (particularly Jess), and Moyes does a great job getting inside all their heads. The last quarter of the book was unexpectedly wrenching.
Overall, a solid read.