I adored Jennifer Smith's
The Statistical Probability at First Sight
. So maybe I can blame that book for not loving this book as much as I wanted to. I keep picking up her books hoping to reclaim that magic--and though this was sweet and quiet it didn't have quite the same zing between the characters, maybe because they spend so much of the novel apart.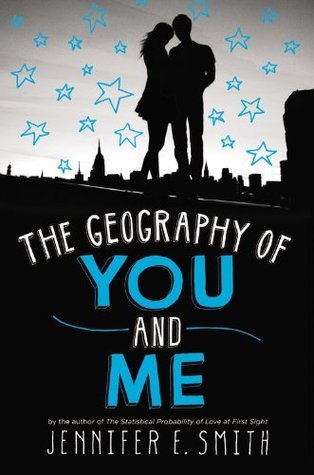 Lucy and Owen live very different lives, despite living in the same apartment building in New York. Owen, the building caretaker's son, lives in a small basement apartment and is still reeling from the death of his mother and his recent move to NYC from small-town Pennsylvania. Lucy lives half-way up the building, with a view, and parents who are rarely around as they are too busy jet-setting around the world. But one fateful day (the infamous NYC blackout), they happen to both be on the elevator when the power goes out. Once they get rescued, they find themselves drawn to each other and spend the evening wandering the dark streets of the city, marveling at the stars, and then the night on the roof of their building talking.
But then life intervenes and they find themselves heading in opposite directions--Owen, out West, and Lucy to Scotland and then London. Still, they hold onto some of the magic from that night by sending each other postcards from their different destinations.
I don't mind quiet novels, and I genuinely liked both characters. But despite the romance of the different places they inhabit (London, Edinburgh, Paris, Rome, San Francisco, Lake Tahoe), there wasn't quite enough romance here--they spend a lot of time yearning for each other without really knowing much about each other. And while I thought the novel was beautifully written, sometimes their parallel chapters seemed too much like a gimmick and not enough like realistic development.
So--a good book, just not a great one.