Shallee McArthur's debut novel,
The Unhappening of Genesis Lee
is a phenomenal book. Well written, fast-paced, intriguing characters, but best of all, a smart world view.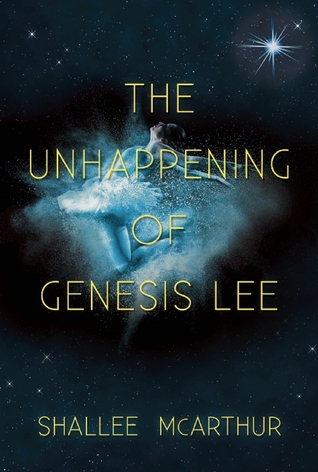 In this near-future society, a group of people with genetically modified memories (the Mementi) have formed their own colony, which is slowly being infiltrated by regular people (Populace). Genesis Lee is Mementi, and stories all of her memories in beads. She's pretty content with her life, hanging out with friends and practicing her dance, until her best friend's memories are stolen by the Link thief who is terrorizing the Mementi population. When Gena runs into a cute Populace boy who claims to know her, but who she doesn't remember, things get serious. Because Gena has never forgotten anything. Ever. But to stop the thief, she's going to need his help.
I thought the book had a nice balance of Gena's own internal conflicts with forgetting and the external tension rising between the Mementi and Populace. The story had some cool twists, but my favorite parts were the relationships. I liked how things were complicated: her relationship with Kalan and other Populace, her relationship with her best friend (who's forgotten the last two years of their relationship), and with her family. And I was so impressed with how smart the book was--I've done some research in memory studies (mostly in terms of collective memory, rather than physiological memory), and it was clear to me that McArthur knows her stuff.
A great read for fans of light sci-fi.