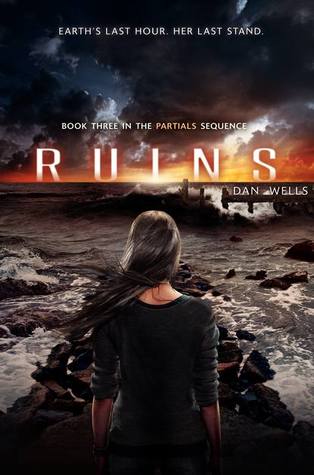 I'm not a huge fan of dystopian novels, but Dan Wells'
Partials
series is pretty amazing. He's built a detailed, fascinating world that's complicated and interesting and rich all at once. In the wake of a world-war where humans created Partial soldiers, the world was nearly destroyed when those same Partials (built with modified human DNA and with a unique ability to link to one another emotionally) attacked the humans who made them. Now, the humans are vastly out numbered and unable to reproduce--every human baby dies within days of birth. And the Partials too are expiring--literally. Something built into their genetic code means that each Partial dies when they hit twenty.
Kira, who is as far as I can tell the heroine of these stories, is a Partial who was raised as a human, and she's spent her whole life trying to figure out what is killing human babies. She's also fallen in love with a partial, Samm, and she wants nothing more to figure out a cure for the expiration as well (something she doesn't seem to have). She thinks she may have found the solution--but that will require the humans and Partials *not* killing each other, a task that seems increasingly difficult as a small band of human rebels is carting a nuclear bomb north to detonate in human headquarters, and the Partials are growing even more distrustful of humans as a new virus (one humans appear immune to) begins attacking them.
Wells does a nice job pulling the plot forward even as the characters have to wrestle with complicated questions, like, what makes people (humans and partials alike) human? And what kinds of casualties are acceptable when looking to preserve an entire species.
There were a few slow parts, when various groups were on the run (though I generally didn't mind them as it was an opportunity to explore more of this post apocalyptic world). There were also a lot of characters--sometimes it was hard for me to keep everyone straight in my head. There as also a secondary plot thread involving the creepy Blood Man that I found incredibly disturbing (and unnecessary?), but it's very in keeping with the style of Mr. Wells' earlier books. But for the most part I found it a satisfying ending to the trilogy--one that managed to offer hope without resolving things too neatly.