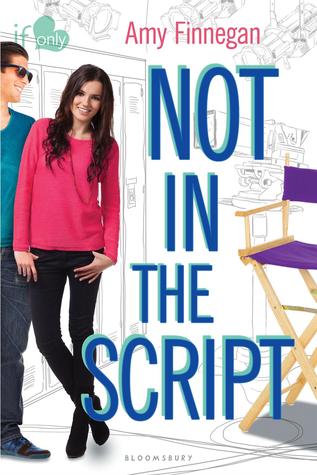 Amy Finnegan's debut,
Not in the Script
, is adorable--exactly the kind of YA contemporary romance that I like reading.
Emma Taylor is an actress who unexpectedly shot to success at age 12. Now, at eighteen, a seasoned veteran of Hollywood, she's just signed on to do a TV series--with none other than her long-time Hollywood crush, Brett. But she has a history of falling for guys who turn out to be jerks, so she's determined to avoid any romantic entanglements on set.
Jake Elliot is a reluctant model who took on high-paying gigs to pay for his mom's treatment after her stroke. He's new to acting, but willing to put in his time for the paycheck--and intrigued by Emma Taylor, who proves to be much deeper than he'd expect from your average Hollywood starlet. He also happens to be Emma's best friend's celebrity crush, a little detail that puts a definite cramp in his plans to get to know Emma better.
I thought the book was a fun insider look at a Hollywood set (Finnegan's brother has worked on several such sets, and Finnegan visited several while writing the book). But really, what Finnegan excels at is the slow-burning romance between Emma and Jake. The two are both so likeable--and human--that it's hard not to root for them, despite all the obstacles to their relationship. More than that, the book is clean--I wouldn't hesitate to hand it to any teen (or even pre-teen) that I know.
As a side-note: I met Amy at a recent writer's conference, and she is just as adorable in person as her characters. But as she shared the story about how
Not in the Script
came to be, I liked the story even more: this wasn't an overnight success. Amy worked on the story for several years before snagging an agent and interested editor.
I love it when authors *and* their characters get the happy endings they deserve!