Jenny Han is a genius at writing character:
Shug
is one of the best middle-grade books I've read, and
To All the Boys I've Loved Before
was simply darling. I didn't mind the "cliff-hanger" ending some people objected to--to me it was less cliff-hanger and more real-world messy. But I loved Lara Jean's sweetness (and yes, naivety. Some girls are naive at sixteen. I was one of them).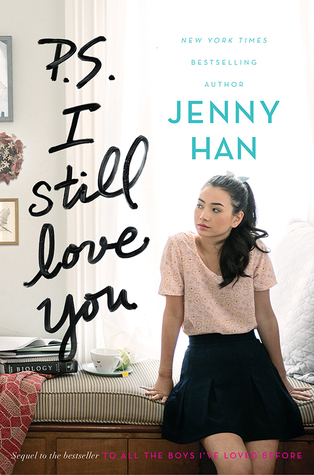 Luckily, there is a sequel that picks up Lara Jean and Peter Kravinsky's relationship almost exactly where book one ended. Of course, there are complications--namely, the fact that Peter keeps being seen with his ex-girlfriend Gen, who he claims is going through hard times (though Lara Jean has seen nothing to prove that). And the not-insignificant fact that the only boy who didn't return her letter from book one starts writing back to her--and they might have more of a connection than Lara Jean realized.
I know love triangles get a bad rap (and sometimes deservedly so), but I think there's a place for them. I remember that feeling of having multiple possibilities, of not being quite sure where my heart really belonged. And both of the boys here are charming for very different reasons--they're not just in the story to increase the drama.
Another thing I really appreciated about the book was it's take on sex: so many YA books seem to either not really address it, or the main characters are all over it. Which, I get: some teens are like that. But there are a lot of teenagers who aren't sure, or even ready for sex. And I loved that Han addressed that openly in Lara Jean's own conflicted feelings (dating someone who's much more experienced while still realizing she may not be ready yet).
I also loved the perfectly evoked bitter-sweet feel of childhood relationships evolving.