I turned in my edits last Monday and spent the rest of the week indulging in a bit of a reading binge. Among this week's offerings:
Simon v. the Homo Sapiens Agenda, by Becky Albertalli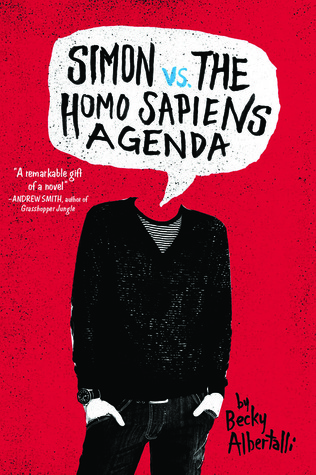 Before picking up this book, I'd been hearing how adorable it was--and the book didn't disappoint. Simon Spier is the kind of warm-hearted, cynical, Harry Potter loving teenage boy you just want to hug. His voice carries the story, which is, in its essentials, pretty simple: Simon has been emailing with a boy (Blue) whom he may be falling for, and he's perfectly happy with his friends and his not-quite-out yet romance, until another boy sees their emails and not-so-subtly blackmails Simon into playing his wingman--or he'll tell the school Simon is gay. But the story isn't really about the blackmail, or Simon coming out, or even the question of who is Blue? (which I figured out fairly early). The story is more about what it feels like to be human, to fall in love for the first time, to navigate your changing self around family and friends who have known you forever, and figuring out how to be yourself. The story exudes warmth and humor--and can I just say how much I loved that Simon has a healthy family relationship? His parents are together, he actually likes his sisters, and while they're not perfect, Albertalli didn't unecessarily pad the story with angst in the form of family drama. I smiled a lot while reading this. Sometimes it even made me laugh.
Romancing the Dark in the City of Light
, by Ann Jacobus.
I got an ARC of this book from the author, for review purposes. She attached a sticky note warning me that the story was not for the faint of heart, so I started reading with a little trepidation. But while it's true that the story IS dark, it's also a story about hope and redemption. Summer Barnes is in Paris for her last semester of school, hoping not to get kicked out here as she has every other school she's attended. She just wants to get through, and maybe hold a boy's hand. She meets Moony, a classmate recovering from a serious car accident--and Kurt, a hot older guy who shows her a part of the city she's never seen before. And while Moony charms her, Kurt stirs something dark and dangerous inside her. But this is not your typical love triangle, and the unfolding relationship between these three is surprising and even shocking. Much of the tension of the story comes from Summer trying to master her demons (drinking, a haunted past, feelings of loneliness and isolation) before she succumbs to the lure of ending everything.
This definitely isn't a story for very young readers (drug abuse, sexual situations, some language), but it's beautifully written and thought-provoking.
Courting Kat
, by Stephanie Burgis
Stephanie Burgis has created such a perfectly delightful heroine in Katherine Stephenson (Kat), that it's almost impossible not to be charmed by the novels. In this novella, Kat is all grown up (18), and enduring her social debut to please her sisters. When she's asked to take on Guardian business to find an illusionist who's been impersonating nobility and stealing from them, she's relieved--something to make this society business more endurable. That is, until she finds that three other Guardians have been assigned to the case as well, and they've been asked to "court" her to make their presence at the same balls less suspicious. Of course, since one of the young men is someone wholly ineligible from her past (not that this has made her stop thinking about him for the past five years), things get problematic very quickly. For me, this was the perfect mix of fantasy, humor, romance, and Regency and I adored it. Except, of course, that it wasn't nearly long enough!