A year or so ago, I met a lovely author (really, she's lovely inside and out) who later agreed to read an early draft of my novel. She gave me some wonderful feedback, and later, when I was trying to decide on an agent, helped sway my decision by telling me how supportive her own agent had been--and how he had just sold her first book! (Full disclosure--her agent, Josh Adams, is now my agent as well).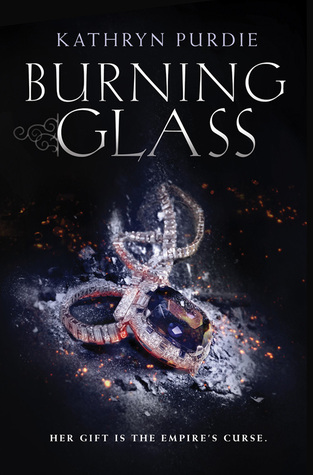 Fast forward to last week, when I finally got to hold Kathryn Purdie's book in my hands. (One of my very favorite things about being a 2016 debut is getting to participate in the ARC tours and reading books early). I've wanted to read this since she was still drafting it! And it did not disappoint.
Sonya is an Auraseer, able to read others' emotions, which means by law she belongs to the empire. Her parents' attempt to hide her with traveling Roma caravans failed, and Sonya is immured in a convent where she's supposed to learn how to control her deep empathy. But after a tragic accident leaves Sonya the oldest auraseer in the convent, she's whisked away to the capitol city to take the place of the Sovereign Auraseer (the most recent has been executed for failing to stop the dowager empress's murder).
Already the stakes are high--Sonya's life is at stake if she fails to protect the narcissistic, power-hungry young emperor. But they climb even higher as Sonya struggles to disentangle her own feelings from those around her (including those of the emperor), and as she discovers the great disparity between the wealthy nobles and the impoverished peasantry--and a plot to close that gap. Sonya has to decide who she cares for and what she truly values--a decision that may cost her life.
I loved the vivid, lush setting of the book (loosely modeled on imperial Russia). And though I didn't always like the choices Sonya made, she was a fascinating character struggling against very real odds and I desperately wanted her to succeed. I loved, too, the romantic intrigue (but I won't spoil it by saying too much about it). Now I just have to wait for book two.