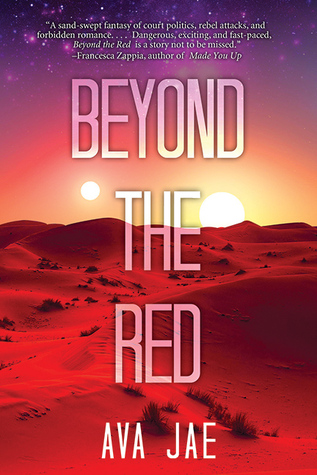 Sci-fi tends to be hit or miss for me--I adore Connie Willis and Lois Bujold, but other sci-fi series sometimes leave me cold. Luckily, that was not the case for Ava Jae's debut Beyond the Red--partly because the book, while technically sci-fi, has the feel of an epic fantasy. Part of that is the politics, which remain mostly on-planet. Kora is an alien queen, struggling with the growing riots of her people, who want to see her displaced in favor of her twin brother. But Kora knows that letting him take the throne would mean ruin for her people. A twist of events puts Eos, a half-human, half-Sepharon, in her path--and rather than having him killed (as her brother encourages her to do, since half-breeds are an abomination), Kora takes him on as a slave-body guard. Their growing friendship and attraction only complicates their situation--Kora has to marry well to ensure her throne's stability, and Eos risks his life if anyone suspects his feelings for Kora.
I thought the relationship was well-drawn and I rooted for both Kora and Eos. But what really fascinated me was the world-building here--the desert planet with its ruthless, terrible beauty, the fragile peace between humans and Sepharons, the treachery and dangerous political navigation Kora has to undertake to survive.
Ava Jae is a young writer (she graduates college this spring!) and definitely one to watch.