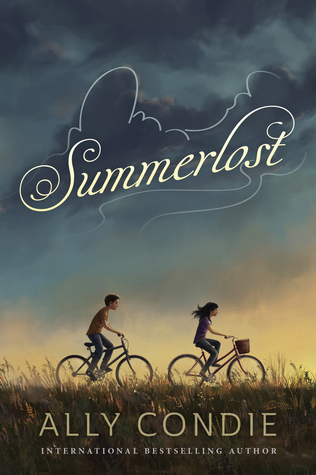 Ally Condie's middle-grade debut is a distinct departure from her Matched trilogy and Atlantia--no dystopian world here, though Cedar Lee feels as though her life has cracked wide after the accidental death of her father and brother. On a visit to her mother's childhood home, her mom falls in love with a house and buys it for the summer. As the summer goes on, Cedar falls "in like" with a new friend and takes a job working for a Shakespeare festival (and giving unauthorized tours in the early mornings about one of the festival's most famous actresses).
The story is driven by the characters, particularly by Cedar, who is still coming to terms with her loss and her tangled relationship with her brother Ben, who died (Ben has autism, like one of Condie's sons, though this is never spelled out in the book). I thought it was a lovely meditation on family, friendship, and grief. I loved Cedar's relationship with her surviving brother and her new friendship, and the resolution of the story made me cry (in a good, cathartic kind of way).
Mostly, though, the story reads as a love letter to the town where Condie grew up (and the town where I now live), and for that alone I would have loved the book. The house Condie describes is a real house, some four houses down the street from me, and the university campus where the festival takes place is the same campus where I teach, where my husband teaches.
A sweet, tender, must-read middle grade.