So, yeah, I get that I haven't posted in almost two weeks.
Part of that is because I was savoring Laini Taylor's
Dreams of Gods and Monsters,
which took me longer to get through than most of the books I read.
Also, I've been buried up to my eye-balls in
Pitch Wars
revisions. The revision has been a pretty big overhaul--my MS has gone from 90,000 words back up to 96,000 and down to 87,000--but in between all that I've cut almost 28,000 words and written 25,000--in three weeks. But I'm pretty excited about the way things are shaping up. I think I've fixed some of the major pacing problems in the story.
Ahem.
On to the review.
I've been a fan of Laini Taylor since her
Fairies of Dreamdark
series. But I didn't love
Daughter of Smoke and Bone
as much as I've loved her two most recent books. That's rare in a trilogy, for the later books to wow me more than the original one.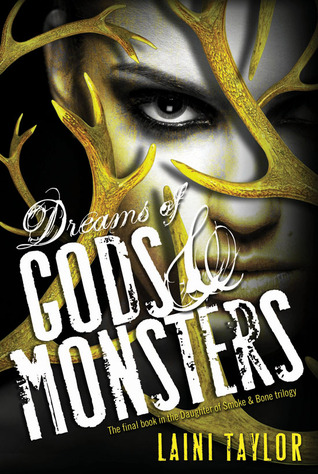 In this conclusion, Karou (a chimera) and Akiva (seraphim) struggle to reconcile their warring people, prevent Jael from acquiring nuclear weapons on earth, and put an end to his cruel rule (how's that for an awkwardly half-rhymed sentence?). As if that weren't enough, Taylor also introduces a new set of characters, PhD student Eliza who has (she thinks) put her family's crazy cultish history behind her, and a race of seraphim whose duty it is to protect Eretz from some unnamed threat.
As always, the stakes are high. And Taylor's prose is breath-taking. Heart-breaking.
I thought she did a terrific job of working together several very complex plotlines and keeping the pace moving forward. I was confused for a little while in the middle, but I was invested in the characters and kept reading anyway.
And if the end seemed a little drawn out and indulgent, well, Akiva and Karou earned it.