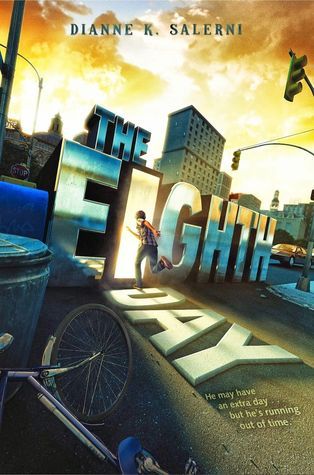 I am a big fan of Dianne Salerni's
The Caged Graves
, so I was thrilled to see she had a new book out. But I very nearly put it back because the back cover made the story sound apocalyptic, and I'm not especially fond of apocalypses or dystopian. Luckily, this book is much more than that.
Jax Aubrey is an orphan, inexplicably in the care of 18-year-old Riley who can hardly take care of himself. Jax only wants to go live with his mother's cousin Naomi--that is, until he turns 13 and discovers the existence of an 8th day that only he and a handful of others experience. More intriguing, there are a group of people, the Kin, who only exist on the Eighth Day, the result of a complex spell conceived by Merlin, the Lady of the Lake, and King Arthur.
Yes, Arthur. Of course, by this point I was hooked, as I'm fascinated by the Arthurian legends. But the story is fast-paced and tense, a Jax discovers a Kin girl sheltering in the house next door, with some kind of tie to his guardian, Riley. When Jax discovers that not all the Transitioners (those who cross from seven days to the eighth day) are well-intentioned and that his dad's death might not have been an accident, he finds himself in the midst of a battle much older and more dangerous than he could have imagined.