I'm not sure what it is about the shift in setting, but most of the historical fantasy books I've read with European settings are darker and more deeply rooted in folklore than their proper British counterparts (Clare Dunkel's
Hollow Kingdom
is a good exception to this). Personally, I adore both kinds, but for different reasons. I love the manners and courtly society--but I also love the earthier, almost fey approach of the latter.
Some of my favorites include:
Juliet Marillier WILDWOOD DANCING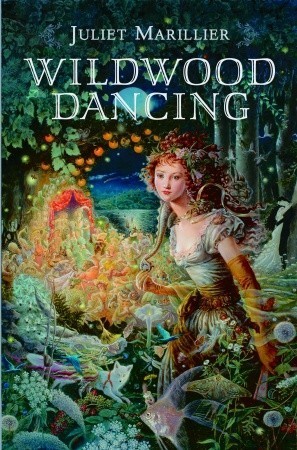 My very favorite 12 Dancing Princesses retelling (and TDP is one of my favorite fairy tales, so that says a lot). Marillier sets her retelling in Romania, so in addition to the enchanting otherworld beneath the castle, there's a lovely cultural setting. In this case, the culture and the story mesh perfectly. The story is told primarily through the point of view of Jena, second of five daughters, whose world is upset when her father goes south to recover from a mysterious illness and her cousin Cezar arrives, bringing with him dark secrets.
Elizabeth Bunce, CURSE DARK AS GOLD
This was a wonderful adaptation of the Rumpelstiltskin fairy tale. Charlotte Miller, as the miller's daughter, inherits her father's mill after his death and struggles to keep the mill going despite what she insists is mere bad luck, but may in fact be something much darker . . . The author has created a plausible world here, peopled with interesting and believable characters. Well worth the read. I'd recommend this particularly to readers who enjoyed Shannon Hale's Goose Girl--this has a similar feel.
Jessica Day George, SILVER IN THE BLOOD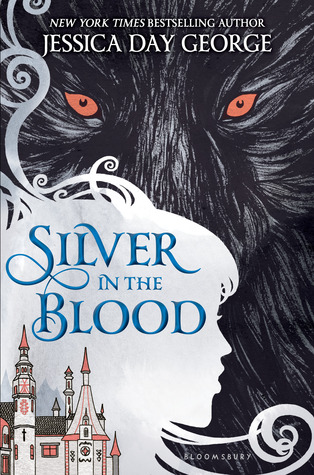 From the moment I heard George was setting her newest book in 19th century Romania, I was intrigued. I loved WILDWOOD DANCING, and I've been looking for something like that for some time. And while this isn't quite that book--it was a different kind of enchanting (more in line with SORCERY AND CECILIA). Lou and Dacia are wealthy American heiresses with Romanian mothers. When they turn sixteen, they return to Romania to visit their extended family--and find, instead, that their family hides a dangerous secret and magic, and are sworn to protect the ancient Dracula family--including the handsome, charismatic (possibly unstable) prince Mihai. Lou and Dacia must defy almost every convention they've learned to stay true to themselves and save their kingdom. I thought Lou and Dacia were charming, and there was just enough grit and darkness to ground the story. Oh, and romance! The girl's suitors were equally adorable, but the romance was just a nice addition, not the main plot.
Jessica Day George, SUN AND MOON, ICE AND SNOW

Another of George's novels, this Beauty and the Beast style story is a twist on a Norwegian fairy tale. The heroine, Lass, agrees to live with an isbjorn (ice bear) to save her family and finds, instead, that she must save the bear from his own curse.
Scott Westerfield, LEVIATHAN (series)
(from Goodreads):
Prince Aleksander, would-be heir to the Austro-Hungarian throne, is on the run. His own people have turned on him. His title is worthless. All he has is a battletorn war machine and a loyal crew of men. Deryn Sharp is a commoner, disguised as a boy in the British Air Service. She's a brilliant airman. But her secret is in constant danger of being discovered. With World War I brewing, Alek and Deryn's paths cross in the most unexpected way…taking them on a fantastical, around-the-world adventure that will change both their lives forever.
While this is technically more steam-punk than fantasy, Westerfield's concept is a fascinating alternate-history that envisions World War I as a conflict between the British Darwinists (who have bred fascinating air-borne creatures) and the German Clankers. The European world in the books is vividly imagined and fun to read.
Still on my TBR list:
Naomi Novik,
UPROOTED
Robin LeFevers,
HIS FAIR ASSASSIN series
Laura Whitcomb,
THE FETCH
Sally Gardner,
THE RED NECKLACE
What other European historical fantasy books should I add to my TBR list?