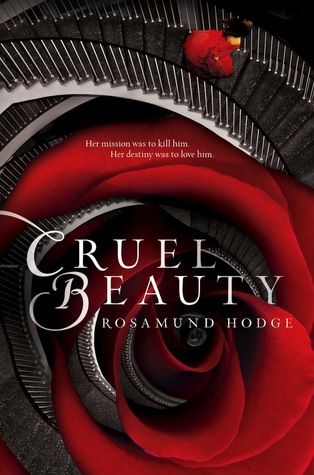 Rosamund Hodge's
Cruel Beauty
has been on my to-read list for sometime and I was thrilled to find it lived up to the hype. In this imaginative retelling of Beauty and the Beast, Nyx has been betrothed to the demon lord her whole life--and raised to kill him. Her family believes this will set her world (an alternate universe England with strong Roman overtones) free from the spell that confines them to their island beneath a parchment sky.
Nyx herself is willing, but bitter that she has been chosen over her sister because she is the expendable one. Not unnaturally, given the source material, she finds herself drawn to the demon lord in ways she did not expect. As she learns more about him and the spell-bound house he inhabits, she becomes more and more uncertain of her ability (or her desire) to follow through on the original plan.
There was so much I loved about this. The prose was gorgeous and smart. I loved all the well-placed allusions to Roman mythology. The book also reminded me of C. S. Lewis'
Till We Have Faces
, both for the rivalry between the sisters and the idea of deep sacrifices--I was thrilled to find in the author's note that this link was not accidental. And the allusions to T. S. Eliot's
Four Quartets?
Even better.
But I loved, loved, the romance. Nyx was strong and prickly, the demon lord dark and quixotic and with a biting sense of humor. Just the kind of match-up I adore.
The novel wasn't perfect: I still have some confusion as to how Nyx was so easily able to obtain the demon lord's keys and I didn't love the love-triangle aspect here, but the strengths far outweigh the weaknesses.