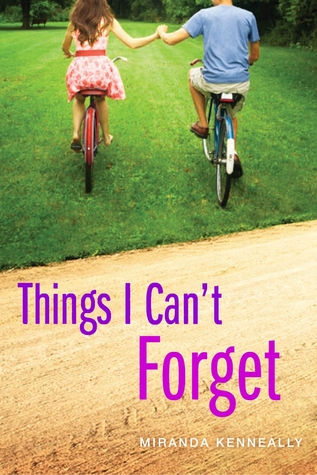 Miranda Kenneally has made a name for herself writing contemporary young adult novels.
Things I Can't Forget
is a companion novel to
Catching Jordan
, an interesting look at a young woman (Jordan) who aspires to be a football player and who makes a cameo here.
What attracted me to this book was the premise: Kate has grown up in a tight religious community, but after a secret strains the relationship she has with her best friend, she's no longer sure about her place. A summer spent as a camp counselor at a Christian camp raises further questions for her, as she watches the other counselors (esp.) the dreamy Matt, practice Christianity in ways that are foreign to her.
As a religious woman myself, I love realistic depictions of religious teens. And I thought Kinneally (who grew up in a similar conservative community) did a fair job with Kate: she does come across as judgmental, but she's also a likeable character. I also liked that the inevitable "mind-opening" character arc did NOT come at the expense of Kate's faith.
I didn't love Kate's relationship with Matt, which escalated to pretty physical pretty quickly. I get that relationships do that, esp. for teens, but as Kate was raised to see chastity as an ideal aim, it seemed odd to me that it took her so long to ask herself what she really wanted from the relationship.
At any rate, it was an enjoyable read, just not a perfect one.