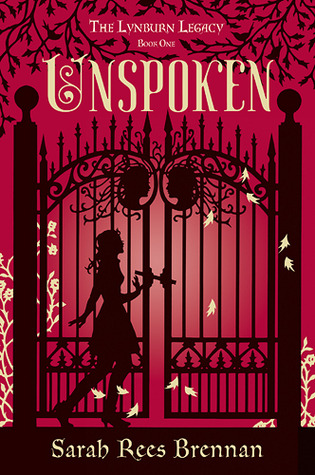 I loved Brennan's
Demon Lexicon
, and I have been waiting for some time to get my hands on a copy of this particular book. It did not disappoint.
The premise was intriguing. Kami Glass has lived her whole life in a town under the shadow of the currently uninhabited great house. People speak of the Lynburns in tones of reverence or abhorrence, but no one is indifferent to them. But they've been gone for all of Kami's life. So when she hears they are about to return, the girl-reporter in her has to know what's going on. But what she finds is much more than expected.
To begin, all Kami's life she has talked to a voice in her head: Jared. She suspects she might be crazy, but Jared is familiar, comforting, and she's not about to give him up. Until the Lynburns return, and she finds that Jared is real--and he's one of them. Then, what was fascinating becomes terrifying. (In fact, I loved this part of the storyline, that Brennen did not romanticize how creepy and horrifying it might be to find that a *real* person has access to your mind and feelings. Particularly when that person is someone you might otherwise very much like). Not that she's ready to give up on Jared--her history with him runs too deep--but things are . . . complicated.
Not to mention, someone is doing dark magic in the village, leaving bloody animal carcasses in the forest. But when Jared starts seeing strange creatures in the wood and a girl turns up dead, Kami and her friends realize that it's up to them to figure out what's going on--and what the Lynburns have to do with it all.
Brennan has a knack for creating fascinating, flawed characters. I loved Kami--her outspokenness, her inquisitiveness, and even the fact that she wasn't conventionally pretty. (In fact, when Jared first meets her, he's not impressed). And I loved Jared too. He was interesting, intense, prickly (in all the right ways) and outrageous. Kami's friends were fun and unpredictable too.
But more than the characters, I loved Brennen's writing, which was the perfect balance of dark, funny, and lush.
What I didn't love? The ending. I really disliked the ending and it's only (slightly) redeemed for me by the fact that there is a sequel . . .