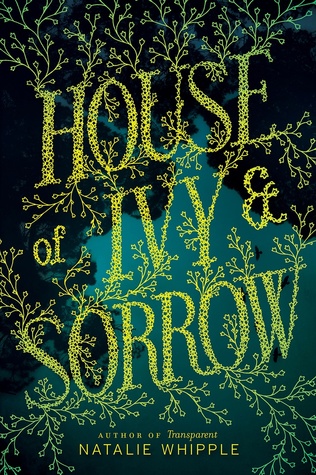 Natalie Whipple's
House of Ivy and Sorrow
is a very different novel from her debut
Transparent
. From the opening chapter I was intrigued: Jo Hemlock lives with her nana in an unusual house in a town full of magic. Though Jo's life hasn't been perfect (her mom died ten years ago from a brutal magical curse), she feels safe.
Safe, that is, until signs that the person who cursed her mother may be finding ways to get past the spells her nana set on the town. Until a stranger shows up inside the town, looking for her. And a boy she's always liked finally starts to notice her.
The opening chapter is magical: dark and warm and whimsical. I love the relationship between Jo and her Nana. And the intrigue sets in right away, which is nice.
It does slow down a little in the middle--we get more of Jo's relationship and less of the danger--but it picks up considerably at the end. I enjoyed Whipple's snappy dialogue and the development of Jo's first boyfriend. While some readers seem to think the lightness detracts from the gothic tone, it worked for me. (But then, I'm a wimp who generally doesn't do really dark stuff anyway).