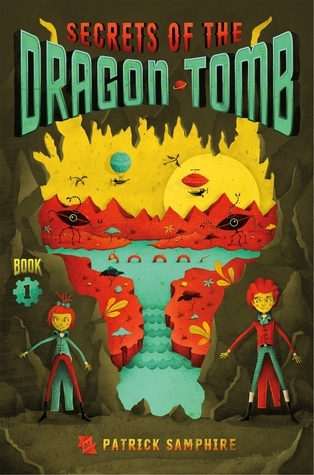 I don't read as much middle grade as I should, with a 10 year old reader at home who devours books, but I couldn't pass up a chance to read Patrick Samphire's delightful middle grade sci-fi (though really, it reads as much fantasy as sci-fi). It's a bit Jules Verne crossed with Regency period pieces: Twelve-year-old Edward Sullivan lives with his very British family (including his slightly mad-scientist father and his society-obsessed mother) on a British colony in 1816 Mars. In this alternate universe, Mars has been inhabited for thousands of years, and the oldest inhabitants (much like the ancient Egyptians) left tombs (called "dragon tombs" for their tendency to bury perfectly preserved dragons in them) full of treasure: only in this case, the treasure is technology.
When a deadly and duplicitous explorer thinks Edward's family has clues to the hiding place of a hitherto unlocated dragon tomb, he kidnaps Edward's parents and sister, and it's up to Edward, his two sisters, and a family friend to cross the Martian desert and save them.
This story was, frankly, delightful. It has everything: adventure, humor, strong family relationships, cool gadgets, even cooler invented flora and fauna. And it's all set in a world that makes my 19th-century British loving heart beat faster. Best of all, this is the kind of book that kids and aduls can enjoy equally.