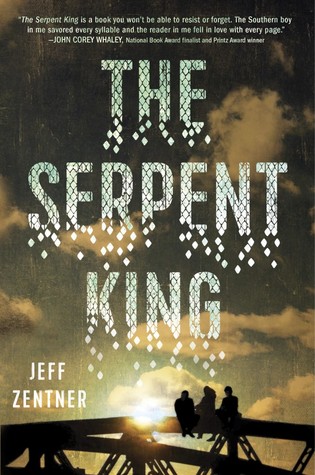 Jeff Zentner's debut, THE SERPENT KING, is a little out of my usual wheelhouse--a more serious contemporary YA. But there's no doubt that this is a remarkable book: characters that stay with you long after the story has ended, a bitter-sweet exploration of friendship and small town life and the indelible affects both past and place have.
Dill Early is the infamous son of a preacher (also named Dillard Early) who was recently arrested for possession of pornographic images of a minor. That reputation haunts Dill--as do the rumors circulating about his grandfather, the Serpent King of the book's title. The only thing Dill cares about are his friends, Lydia and Travis, and his music--but as his senior year dawns, even those are threatened, as Lydia can't wait to get out of their small Tennessee town.
Lydia lives for her fashion blog and her dreams of the future, but she's intensely loyal toward her two friends, both outcasts in their small town. The third corner of their trio, Travis, spends his days working at his father's lumberyard, avoiding his father's temper, and his nights reading his favorite epic fantasy series and engaging in debates (and a possible flirtation) on the reader forums.
The plot, as plots go, isn't high concept or super fast paced. But the book has a way of gripping you and not letting go. The prose is gorgeous (probably award-winning), and the characters--in all their flawed, wondrous glory--are heart-breaking and hopeful. I would not be at all surprised to see Zentner go on to astound us.