I picked up Jenny Han's
To All The Boys I've Loved Before
a few weeks back at the library. I tried starting it and couldn't quite get into it. I decided to try one last time, and I'm so glad I did.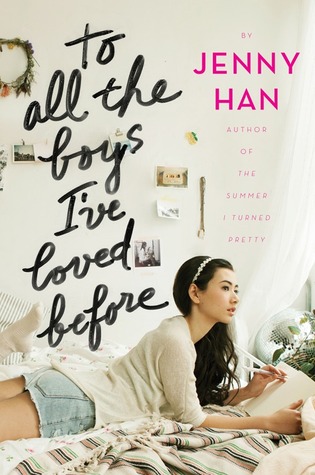 Lara Jean is one of the Song girls, defined primarily by her place as the middle sister in a close family. But when her older sister goes off to college in Scotland, and someone accidentally mails all the unsent love letters she's written to boys (in an effort to get over them), Lara Jean's life starts to change. Already off balance by her sister leaving, Lara Jean is horrified to find that her sister's ex-boyfriend (and their next boyfriend) has received the letter detailing all the things she loves about him. To save face, she convinces her childhood friend Peter (another letter recipient) to pretend to be her boyfriend long enough to convince her sister's ex that she's over him. If it sounds complicated, it is, a little, but that's not really what the story was about.
Even if the title is dedicated to Lara Jean's loves, I think the story is much more a love-letter to sisters. I think Han perfectly captures the sister-dynamic: the way you can both love someone and be cruel to them at the same time, the way your sister can be the closest person in the world and also drive you insane. I loved that Lara Jean's family felt real, and that her father was present and involved and a little goofy.
Some reviewers have bagged on the book for being slow, or for Lara Jean's voice being too young. I don't expect a particularly fast pace in a character-driven novel, and I thought Han's voice here was lovely. Not all teenagers are particularly mature or edgy, and Lara Jean *was* immature (i.e., inexperienced) when it comes to boys. I don't think there's anything wrong with that--in fact, I think a diversity of YA experiences *should* be documented.
I would have liked more resolution in the ending, and I didn't always love Lara Jean's love interest, but I did love the book. Cute, sweet, and real.