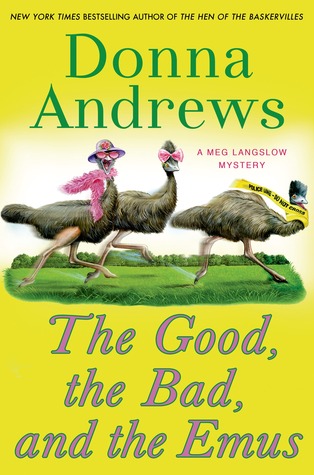 I think I enjoyed Meg's 17th adventure a little more than the previous one, though this still isn't quite up to par with some of the first books. What elevates this one is a new concern for complicated family relationships: Meg's grandfather has hired a PI to find Meg's grandmother (they lost touch while he was doing research in Ecuador). The PI succeeds--only to find that Meg's grandmother has been murdered a few months previously. He agrees to investigate further, and solicits Meg's help dealing with the reclusive cousin who lived with her grandmother.
At the same time, her grandfather decides to act on the feral emu problem in rural Virginia, rounding up a crew to capture the emus and move them to a wildlife sanctuary. While the effort is earnest, it serves as the ideal cover for Meg's exploration. But when someone attempts to poison her grandfather *and* the reclusive cousin, Annabelle, Meg begins to think that just maybe the two cases are somehow connected.
There was a lot I liked about this novel: Andrews' light touch with humor, interesting new characters (esp. Annabelle), and the new wrinkle in Meg's family life. I figured out both the major plot twist and the murderer, but that didn't necessarily diminish my enjoyment (I liked being right).
What I didn't love: I fell in love with Michael in the first two books when Meg did, and I feel like he's been relegated to a babysitter in the last couple of books since the birth of their twins. I realize that there wasn't a huge place for him in the story, but I miss their interactions. And the twins themselves--I can't figure out how they're so bright, and yet their diction isn't much better than my 2 year old's. It's not an egregious problem, but it does pull me out of the story a little every time it happens.