Patricia Briggs' Mercy Thompson series is one of the few urban fantasy series I'm still reading--and this newest installment,
Night Broken
, is a terrific addition. So many series seem to get tired part way through: the plotline becomes familiar, the characters have begun recycling arcs, etc. But Briggs managed to make this one feel fresh, in part by introducing a familiar sort of conflict: the ex.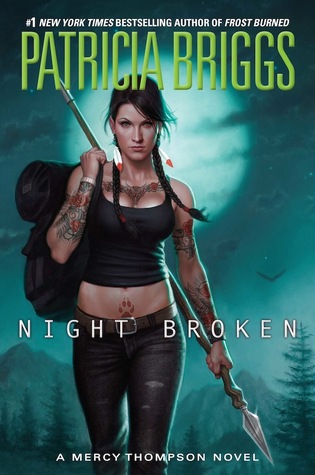 Adam's ex-wife Christy has managed to get herself into trouble--she's got a stalker who may have killed at least one other person, and so she comes fleeing home to the protection of Adam and his werewolves. She doesn't, however, tell them the most important bits: her stalker probably isn't human--and she wants Adam back. Christy is a first-class manipulator, and within minutes of returning she's got most of the pack eating out of her hands--and making it so that if Mercy protests, it's Mercy, not Christy, who looks bad. More interested in the pack harmony than her own ego, Mercy bites her tongue--and then does her damnedest to get rid of Christy's stalker.
Only, of course, the stalker is something out of legend, something that Mercy and the wolves may not be able to stop without still more supernatural aid. Coyote makes an appearance (things always get interesting when he shows up), along with an unexpected half-sibling of Mercy's. And while the primary plot around Christy's stalker is fascinating, disturbing, and dark, that wasn't my favorite part of the story. As always, it's about the characters. Although some readers don't like Mercy's tame reaction to Christy, I found her wrestle all the more compelling because she didn't stoop to Christy's level. And I loved seeing Mercy's world expanding in uncomfortable and unexpected ways, not only with the appearance of a new sibling, but with new dynamics unfolding in the pack.
I also love the setting, since many of my extended family live in Eastern Washington. At one point, Mercy travels to Connell, a tiny city most people have never heard of--but my mom went to high school there.
I didn't love the ending, which wrapped up a little too easily (I thought), but the dilemmas Mercy faces here are very real, as are the questions the book raises about the nature and requirements of family bonds.